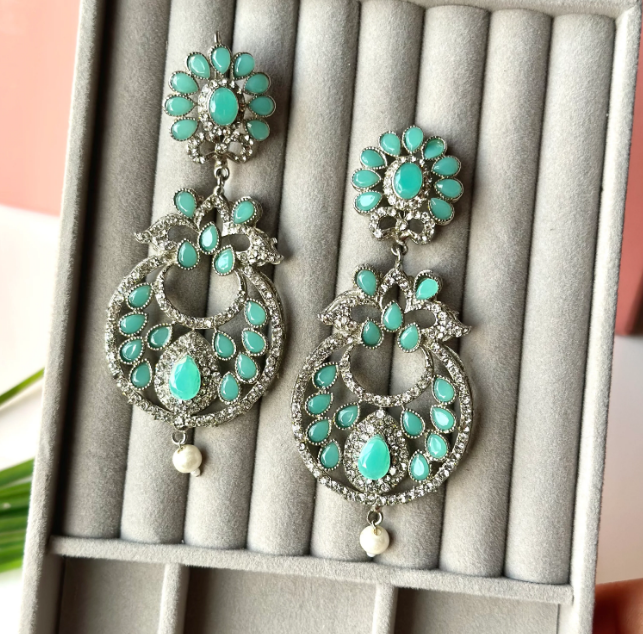 Shop Trendy Earrings: That Won't Break the Bank
Dazzling and versatile, earrings have the remarkable ability to define your style and tell your story. At Alita, we're delighted to present our curated collection of exquisite earrings, showcasing the perfect balance between traditional charm and modern allure. 
From timeless to contemporary, our handpicked pieces cater to every taste and occasion. Embark on a journey with us as we delve into the world of elegant earrings and discover how Alita redefines accessorizing for both the past and the present.
Top 10 Trendy Earrings
Presenting our top 10 trendy earrings, each a unique piece of art designed to complement your personal style and enhance every occasion. Join us on a journey through our carefully curated selection as we unveil the must-have earrings that promise to redefine your accessory game.
1. Silver Jhumki Earrings
Experience the allure of tradition and elegance with our Silver Jhumki Earrings. These exquisite pieces are a celebration of intricate craftsmanship, carefully designed to capture the essence of timeless beauty. 
Each jhumki is meticulously handcrafted with silver, a metal renowned for its lustrous charm. Our artisans imbue these jhumkis with their expertise, ensuring that every delicate detail is brought to life. 
The silver's sheen reflects the light, casting a mesmerizing glow that complements your every move. With these earrings, you're not just wearing jewelry; you're carrying a piece of art that whispers stories of heritage.
2. Dangling Jhumki Earrings
Our Dangling Jhumki Earrings seamlessly blend tradition with contemporary flair. These earrings sway with grace, dancing with every step you take. 
The craftsmanship is impeccable, and the materials used are chosen with utmost care. The intricate design, combined with the gentle movement, creates an enchanting spectacle that catches the eye. 
Crafted to be lightweight yet sturdy, these earrings offer both comfort and durability, ensuring they remain an elegant companion for years to come.
3. Golden Baali Earrings
Golden Baali Earrings: Indulge in the richness of our Golden Baali Earrings, where classic design meets modern sensibility. Crafted with an eye for detail, these baalis exude sophistication. 
The golden hue brings a touch of opulence, while the craftsmanship guarantees longevity. Each piece is a testament to our dedication to combining aesthetics with enduring quality. With these earrings, you're embracing the essence of timeless allure that effortlessly enhances any ensemble.
4. Sunshine Jhumkay (Silver & Golden)
Meet the Sunshine Jhumkays, available in both silver and golden hues. These earrings capture the essence of radiant elegance. The intricate patterns are a testament to the skill of our artisans, who painstakingly breathe life into every curve and swirl.
The silver variant glistens like dew-kissed petals, while the golden one exudes warmth and luxury. Both variants are designed to celebrate your unique radiance, and they effortlessly become a reflection of your vibrant personality.
5. Meenakari Jhumkay (Maroon)
Introducing the Meenakari Jhumkay in a captivating maroon hue – a celebration of colors that dance in harmony. These earrings are a testament to the fusion of meticulous craftsmanship and vibrant aesthetics. 
The maroon color, symbolizing passion and vitality, is skillfully applied using the traditional Meenakari technique, resulting in an intricate mosaic of colors that play with the light.
Our commitment to quality shines through in every aspect of the Meenakari Jhumkay. The choice of materials reflects durability and longevity, ensuring these earrings stand the test of time. 
The intricate Meenakari work showcases the dedication of our artisans, who painstakingly hand-paint each element, creating a visual story that portrays the essence of cultural heritage.
6. Sia Hoops
A fusion of contemporary aesthetics and enduring quality. These hoops seamlessly blend modern design with timeless charm, creating a harmonious accessory that stands the test of trends.
The craftsmanship behind the Sia Hoops reflects our dedication to delivering quality in every piece. Each hoop is carefully shaped to ensure both comfort and aesthetics. The choice of materials guarantees their resilience, ensuring that these hoops remain a cherished part of your collection for years to come.
7. Lara Earrings
Experience elegance with Alita's Lara Earrings in a lovely shade of green. These earrings capture graceful movement, with delicate parts swaying as you walk. The detailed design radiates timeless charm, making a sophisticated statement.
Creating the Lara Earrings involves careful artistry and exactness. Each part is made with precision to ensure they move gracefully with you. Made from high-quality materials, these earrings are not just accessories – they're wearable art meant to captivate.
8. Juhi Studs
Gaze upon the Juhi Studs, a fusion of intricate craftsmanship and the serene beauty of blue. The captivating shade adds a touch of tranquility to the design. Crafted with a brass base and gold plating, these studs are adorned with the brilliance of zirconia and sapphire stones. 
This melding of materials and hues results in an accessory that emanates elegance and grace.
Crafted from premium materials, they seamlessly blend elegance with resilience, while the calming allure of blue adds a unique charm that resonates with your individuality.
9. Twisted Pearl Studs
Introducing the Twisted Pearl Studs – a modern take on the timeless elegance of pearls, presented in a pure and graceful shade of white. The asymmetrical design infuses a playful spirit into this classic gem, resulting in an enchanting addition to your jewelry collection.
The Twisted Pearl Studs stand as a testament to our unwavering dedication to quality, which permeates even the tiniest of details. We meticulously choose pearls based on their exquisite luster and radiance. 
Capturing the very essence that has made pearls symbols of enduring grace. The intricate twist design introduces a touch of contemporary flair, intertwining classic allure with innovative design elements.
10. Rhombus Studs
A captivating pair of rhodium-plated earrings adorned with zirconia stones redefining the essence of geometric elegance. These studs reimagine traditional shapes through a contemporary lens, infusing a touch of modern luxury into every facet.
Behold the Rhombus Studs, a harmonious fusion of geometry and glamour that catches the eye. Crafted in rhodium plating, these earrings are embellished with glistening zirconia stones, adding an extra layer of allure to their form. 
This modern reinterpretation of classic shapes elevates their charm to a new level of sophistication.
Each element is thoughtfully shaped to capture and refract light, resulting in a mesmerizing display of sparkle with every movement. The intricate detailing on these studs transforms them from mere accessories into wearable pieces of geometric art, a testament to our pursuit of redefining elegance.
Quality on a Budget: Unveiling the Value in Alita's Earrings
In the world of jewelry, there's a common misconception that affordability comes at the cost of quality. At Alita, we are committed to shattering this myth and redefining the notion of value. Our earrings are a testament to the fact that exceptional quality doesn't have to be accompanied by an exorbitant price tag. 
Let us illuminate how we achieve this balance between affordability and unparalleled craftsmanship.
Dispelling the Misconception:

Affordable doesn't equate to a compromise on quality; this is the foundation on which Alita is built. We understand that every piece of jewelry carries not just an aesthetic value but an emotional one too. Therefore, our commitment to quality craftsmanship and durability is unwavering, regardless of the price range.
Materials That Speak of Excellence:

Our earrings are crafted using a careful selection of materials, each chosen to reflect our commitment to both aesthetics and endurance. From gleaming metals to shimmering gemstones, each element is meticulously sourced to ensure authenticity and longevity. We believe that it's not about the cost of the material but the craftsmanship that brings it to life.
Craftsmanship that Resonates:

The hands that shape our earrings belong to skilled artisans who understand the intricacies of their craft. With a keen eye for detail and a dedication to perfection, they breathe life into each piece. Whether it's the delicate filigree work of our traditional designs or the precision of our modern creations, our artisans infuse their expertise into every earring.
Durability Without Compromise:

Our mission is to make exquisite jewelry an integral part of your everyday life. We've dedicated ourselves to creating earrings that can withstand the rigors of daily wear while retaining their brilliance. From the strength of our clasps to the meticulous setting of our stones, every detail is geared towards longevity.
Wrapping Up
In this blog post, we've showcased a carefully curated selection of earrings that blend the latest trends with budget-conscious choices. Our goal is to empower you to express your unique style without compromising on quality or sophistication. 
Each pair of earrings you find here carries the essence of affordability without compromising on the attention to detail that we hold.
Our brand ethos centers around making fashion a joyful experience that resonates with your personal taste. We invite you to explore our collections further, whether you're drawn to the charm of traditional designs or the allure of modern aesthetics. 
With Alita, you're not just shopping for earrings; you're investing in pieces that tell your story, one embellished with elegance and mindful choices. Happy shopping and adorning yourself with affordable elegance!