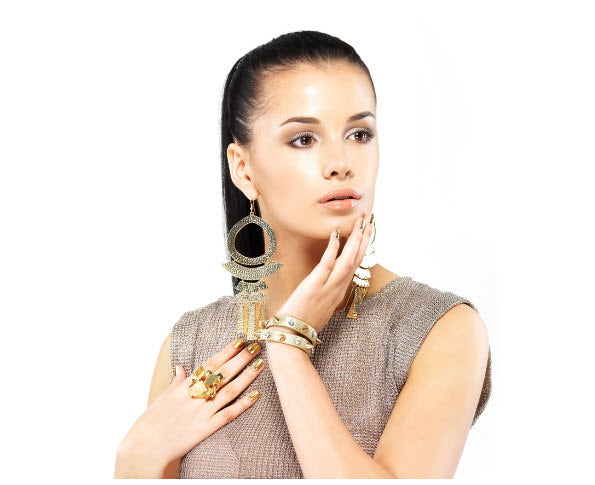 The Ultimate Guide to Buying Gold Plated Jewelry Online in 2023
Gold-plated jewelry is a popular choice for young girls because it is affordable, stylish, and versatile. However, buying gold-plated jewelry online can be tricky. There are many different sellers to choose from, and it can be difficult to know which ones are trustworthy.   
In a world where fashion is ever-evolving, gold-plated pieces have secured their spot in the limelight, offering both affordability and a touch of luxury. 
This blog post will provide you with the ultimate guide to buying gold-plated jewelry online in 2023. We will cover the following topics:
Discover

the popularity of gold-plated jewelry.

Consider factors when shopping online.

Uncover tips for buying gold-plated jewelry online.

Explore popular designs and motifs for online jewelry.

Realize the benefits of investing in gold-plated jewelry online.
The year 2023 has seen a significant uptick in online shopping trends, with more consumers than ever turning to the digital realm for their jewelry needs. 
Whether you're a seasoned online shopper or a novice, this guide is here to navigate you through the sparkling world of online gold-plated jewelry.
Understanding Gold Plated Jewelry
The process of gold plating involves depositing a thin layer of gold onto another metal, often silver or copper, through electrochemical methods. It gives the item a lustrous gold appearance at a fraction of the cost of solid gold. 
While gold plating enhances the item's aesthetic appeal, the outer layer can wear off over time. Quality and thickness of the gold layer, along with the type of base metal used, play pivotal roles in the durability and longevity of the plated piece.
Benefits of Choosing Gold Plated Over Solid Gold
Affordability

: Gold-plated jewelry offers the luxurious appearance of gold without the hefty price tag of solid gold pieces.

Versatility

: Given its cost-effectiveness, one can own a variety of gold-plated pieces to match different outfits or occasions without breaking the bank.

Fashion-forward

: Gold-plated jewelry allows wearers to experiment with trendy designs that they might not invest in if the piece were solid gold.

Lightweight

: Since the core metal is not pure gold, these pieces can be lighter and more comfortable for everyday wear.

Sustainability

: Using less pure gold can be seen as a more sustainable choice, conserving the amount of raw gold mined.

Less Risk

: Wearing expensive jewelry can come with risks of theft or loss. Gold-plated jewelry, being less valuable, offers peace of mind when worn daily or in crowded places.

Easy Maintenance

: If a gold-plated piece loses its luster or gets scratched, it's relatively inexpensive to replace compared to solid gold.
Why Buy Gold Plated Jewelry Online?
Wide Selection

: Online platforms provide access to a vast array of designs from different brands, designers, and regions, all in one place.

Convenience

: Shopping from the comfort of your home eliminates the need to physically visit multiple stores, saving time and energy.

Cost-effective

: Online stores often have fewer overhead costs than brick-and-mortar shops. These savings can be passed on to customers in the form of discounts or promotional offers.

Reviews and Ratings

: Customers can read reviews and see ratings from other buyers, providing insight into product quality and the reliability of the seller.

Detailed Information

: Online product listings often come with detailed descriptions, specifications, and care instructions, helping buyers make informed decisions.

Easy Comparisons

: Shoppers can quickly compare prices, designs, and features of jewelry from different sellers or brands.

Customization

: Some online jewelers offer customization options, allowing customers to personalize their pieces.

Flexible Return and Exchange Policies

: Many online jewelers offer hassle-free returns and exchanges if the product doesn't meet the buyer's expectations.

Safe Transactions

: Reputable online stores use secure payment gateways, ensuring that financial details remain confidential.

Doorstep Delivery

: Purchases are conveniently delivered to the buyer's doorstep, sometimes even with the option of gift wrapping or special packaging.
Factors to Consider When Shopping Online
Product Quality
One of the most important factors to consider when you shop online is the quality of the products you are purchasing. It is difficult to assess the quality of a product from a picture, so it is important to read reviews from other customers. You should also look for sellers with a good reputation.
Price
Another important factor to consider is the price of the products you are buying. It is important to compare prices from different sellers before you make a purchase. You should also be aware of the shipping costs and any other additional fees that may apply.
Shipping and return policy
When shopping online, it is important to read the shipping and return policy carefully. This will help you to understand how long it will take for your order to arrive and what your options are if you need to return an item. 
Security
When shopping online, it is important to use a secure website. Look for the "https://" prefix in the URL to determine whether a website is secure. If you use a public computer, you should also avoid entering your credit card information.
Customer service
It is important to choose a seller with good customer service. This is especially important if you are buying a high-priced item or if you have any questions about the product.
Tips for a Safe Online Shopping Experience
In the age of digital convenience, online shopping has become a go-to for many. But just as you'd take precautions in a physical store or market, it's crucial to ensure safety when buying online. Here are some essential tips to help you have a secure and pleasant online shopping experience:
Secure Websites and Payment Methods
Check the URL

: Ensure the website starts with "https://" instead of "http://." The "s" indicates a secure connection.

Look for the padlock icon

: This icon, usually located next to the URL or in the status bar, signifies that your data is encrypted and secure.

Use trusted payment methods

: Opt for well-known payment gateways like PayPal, credit cards, or other trusted payment methods. Avoid direct wire transfers to unfamiliar recipients.

Update your software

: Ensure your browser, operating system, and any security software are up to date. This helps in safeguarding against potential vulnerabilities.
Avoiding Potential Online Scams
Research the seller

: Check reviews, ratings, and any available feedback on the seller. A significant number of negative reviews can be a red flag.

Beware of deals that seem too good to be true

: Extremely low prices can be tempting, but they can also be a sign of counterfeit goods or scams.

Avoid clicking on suspicious links

: Phishing emails can mimic legitimate companies. Always enter the website's address manually instead of clicking on email links.

Be cautious with personal information

: Avoid sharing unnecessary personal details. Only provide what's required for the purchase.
Importance of Customer Service and Easy Contactability
Accessible contact information

: A reputable online store will have easily accessible contact details, including a physical address, phone number, and email.

Responsive customer service

: Before making a purchase, consider reaching out with a query. A prompt and helpful response can be a good indicator of their customer service quality.

Check return and refund policies

: A clear and fair return policy is a sign of a trustworthy seller. It ensures that if something goes wrong, you have a recourse.

Read reviews related to customer service

: Other buyers' experiences can give you insights into post-purchase support and the reliability of the seller.
Popular Designs and Motifs
Gold-plated jewelry online showcases a variety of popular designs. Floral motifs remain a favorite, symbolizing nature and beauty. Geometric patterns inspired by art deco add a modern twist. 
Traditional designs, like Kundan and Chaandbali, evoke a royal charm. Infinity symbols, hearts, and stars cater to the minimalist, while layered chains and chunky pieces are for the bold.
1. Zobia Earrings
Zobia Earrings exude a royal charm with their intricate design and vibrant colors. These statement earrings combine gold-toned metalwork with detailed enamel in shades of red, orange, and blue. 
At the center is an elegant floral motif, surrounded by a cascade of delicate pearls, lending the earrings a mesmerizing allure.
Why It Is a Good Choice:
Striking Appearance

: The vibrant enamel ensures these earrings stand out, making them perfect for special occasions.

Detailed Craftsmanship

: The meticulous design and combination of enameling with pearls demonstrate exceptional artistry.

Versatile

: While they are opulent, the earrings can complement both ethnic and contemporary outfits.

Premium Quality

: The use of pearls and enamel on a gold-toned base indicates premium quality and durability.
Where to Buy It and Its Price Range:
Price: 2850 PKR
Available Colors: ( Green, Champagne, Maroon and Baby Pink)
Zobia Earrings can be found at upscale jewelry boutiques or on online platforms specializing in artisanal jewelry. Given their intricate design and premium materials, a price of 2850 PKR is a valuable investment. 
2. Chaandbali (Pearl)
The Chaandbali (Pearl) earrings are an exquisite representation of timeless elegance. These gold-toned earrings are designed in the traditional crescent shape, paying homage to the moon. 
They are adorned with intricate patterns and embellished with shimmering stones in the center. Dangling from the base are luminous pearls, which sway gracefully, enhancing the overall allure of the design. 
Why It Is a Good Choice:
Timeless Elegance

: The combination of pearls with the classic handball design ensures these earrings never go out of style.

Versatility

: Suitable for various occasions, be it festive, weddings, or elegant soirées.

High Craftsmanship

: The intricate detailing and well-secured pearls indicate a high level of craftsmanship.

Statement Piece

: The earrings can elevate a simple outfit, making it look more sophisticated.

 
Where to Buy It and Its Price Range: 
Price: 1990 PKR
The Chaandbali (Pearl) earrings can be sourced from premium jewelry stores or online platforms specializing in traditional jewelry. For such a finely crafted piece, a price of 1990 PKR is a worthy investment. Ensure to buy from reputed sellers to guarantee quality and authenticity.
3. Sleek Anklets
These Sleek Anklets display a minimalist yet striking design. Each anklet features a slender silver-toned chain embedded with evenly spaced, petite, and shimmering stones. 
These stones exude subtle hints of colors, reflecting light in a gentle manner. The anklets come with a secure clasp, ensuring a snug fit and making them an understated yet elegant addition to one's jewelry collection. 
Why It Is a Good Choice:
Minimalist Elegance

: The simplicity of the design ensures they pair well with any outfit, whether casual or dressy.

Adaptable

: Can be worn individually or layered with other anklets or jewelry pieces for a more eclectic look.

High-Quality Finish

: The precise setting of the stones and the polished chain ensures longevity and shine.

Everyday Accessories

: Lightweight and comfortable, they can be worn daily without causing any discomfort.
Where to Buy It and Its Price Range:
Price: 755 PKR

Available Colors: Muti golden, Plain Silver
The Sleek Anklets can be found in many jewelry shops or online platforms that specialize in modern jewelry designs. A price tag of 755 PKR is a reasonable estimation for such a versatile and refined piece. 
4. Mirha Neckpiece (Green)
The Mirha Neckpiece in green is a delicate and elegant piece of jewelry. The design features a series of rich, emerald-green beads, each encased in a gold-toned setting that adds to its allure. 
The beads are beautifully aligned in a single row, creating a harmonious blend of color and shimmer. The sleek gold chain adds a subtle contrast to the vibrant green, making the piece both sophisticated and lively.
 Why It Is a Good Choice:
Classic with a Twist

: The combination of green and gold is timeless, but the unique bead setting offers a fresh perspective.

Versatility

: Suitable for both day and evening wear, it can be paired with a variety of outfits.

Pop of Color

: The vibrant green beads provide an instant uplift to any ensemble, making it a standout accessory.

Simple Elegance

: Its minimalist design ensures it doesn't overpower but instead enhances the wearer's beauty.
Where to Buy It and Its Price Range:
The Mirha Neckpiece (Green) can be found in select jewelry boutiques or online platforms that specialize in contemporary jewelry designs.  
Given the quality and design intricacy, a price range of 1095 PKR is both competitive and fair. Always choose to buy from trusted jewelers or renowned online stores to ensure authenticity and value for money.
5. Kundan Aangla
The piece presented is a stunning Kundan Aangla, a traditional Indian jewelry item. The design showcases a beautiful amalgamation of intricate Kundan work and pristine pearls arranged in a cascading manner. 
The central pendant, adorned with a pinkish gem surrounded by white stones, stands as the focal point, exuding elegance and grandeur. The gold-toned chain complements the pearls, giving it a royal finish. 
Why It Is a Good Choice:
Cultural Significance

: The Kundan Aangla is steeped in cultural heritage and tradition, making it a timeless piece.

Versatility

: While traditional, its design allows it to be paired with both ethnic and contemporary outfits.

Attention to Detail

: The meticulous Kundan work and the pearl arrangement showcase the craftsmanship of the highest quality.

Statement Piece

: Its distinct design ensures that it stands out, making it a conversation starter at any gathering.
Where to Buy It and Its Price Range:
This particular Kundan Aangla can be found at reputed jewelry stores specializing in traditional Indian jewelry. 
While the exact price might vary depending on the store and region, given the intricate design and craftsmanship, a price tag of 2495 PKR is reasonable and competitive. Always ensure authenticity by purchasing from renowned jewelers or trusted online platforms.
Benefits of Investing in Gold Plated Jewelry in 2023
In the evolving world of jewelry, gold-plated pieces have found their unique niche. As we step into 2023, the trend of investing in gold-plated jewelry continues to grow, and for good reason. Here's a deeper look at the significant benefits:
The Value of Fashion-Forward, Affordable Luxury
Trendy Yet Timeless

: Gold-plated jewelry effortlessly merges contemporary designs with the timeless allure of gold. This allows wearers to stay fashion-forward, making a statement with pieces that never go out of style.

Affordable Glamour

: One of the primary advantages is affordability. You get the luxury look and feel of gold without the hefty price tag. This means you can expand your collection, switch up styles, or even experiment with trendy pieces without a significant financial commitment.

Versatility

: With gold-plated jewelry, you can enjoy the flexibility of owning pieces suitable for both everyday wear and special occasions. Their affordability means you can own a variety of styles to match different outfits and moods.
Durability and Long-Lasting Shine with Proper Care
Strength of Base Metals

: Gold-plated jewelry often uses robust base metals, which give the piece strength. The gold plating then adds the desired aesthetic appeal. This combination ensures that with proper care, your jewelry remains both beautiful and durable.

Maintaining the Luster

: One misconception about gold-plated jewelry is that it tarnishes quickly. However, with advancements in plating techniques and the right care routines, such as gentle cleaning and avoiding harsh chemicals, the shine and luster can be maintained for years.

Protection from Tarnishing

: Modern gold-plated jewelry often comes with a protective layer that shields the gold from direct contact with the environment. This layer significantly reduces the chances of tarnishing and ensures the piece remains radiant.
Wrapping Up
Gold-plated jewelry offers a blend of affordability and luxury, making it a favored choice among young girls. While purchasing such pieces online in 2023 offers vast selections and convenience, it's essential to navigate the numerous sellers wisely to ensure quality and authenticity. Gold plating, an electrochemical process, provides a gold appearance at a reduced cost but can wear off over time. 
The benefits of gold-plated jewelry include its affordability, style versatility, lightweight, and reduced risk compared to solid gold. When shopping online, consider factors like product quality, price, security, shipping policies, and customer service. 
Ensure you're on a secure website, and be cautious about potential online scams. Reputable online stores should be easy to contact and have clear return policies. 
Popular designs in gold-plated jewelry range from traditional to modern, with pieces like the Zobia Earrings, Chaandbali (Pearl) earrings, Sleek Anklets, and Mirha Neck Piece showcasing the diversity available.