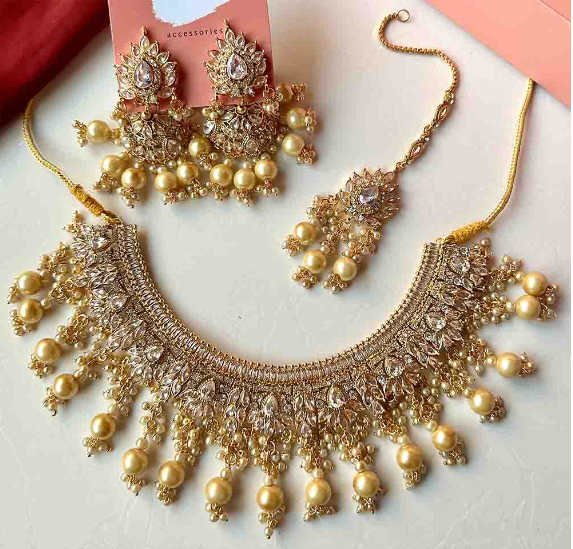 The Top 9 Pendant Set Designs to Look Out for in 2023
Pendant sets are a must-have accessory for any young girl's wardrobe. Elegant and sophisticated, they are the perfect complement to any outfit, and they can be dressed up or down based on the occasion. 
But with so many different pendant set designs on the market, it can be tough to know which ones are worth buying. They can also be used to complete a look or to add a pop of color to an otherwise neutral outfit.
Pendant sets are also appealing to young girls because they are available in a wide variety of designs and styles. There are pendant sets to suit every taste, from delicate and feminine designs to bold and statement-making pieces.
In this blog post, we'll take a look at the top 9 pendant set designs to look out for in 2023. These designs are trendy, stylish, and versatile, and they're sure to turn heads wherever you go.
The Top Pendant Set Designs of 2023
These pendant sets feature large, eye-catching pendants that are sure to turn heads. Statement pendant sets are perfect for special occasions, but they can also be worn casually.
1. Gold Plated Pendant Set
The Gold Plated Pendant Set is a timeless piece that boasts a radiant sheen synonymous with luxury. Crafted with precision, it seamlessly blends traditional craftsmanship with modern aesthetics. 
Suggestions on Styling: 
This set is versatile and can be styled in numerous ways. Pair it with a traditional saree or an ethnic gown for a regal touch. Alternatively, wearing it with a sleek black dress can infuse a dash of elegance into a contemporary outfit.
Price for Gold Plated Pendant Set
With its classic and elegant design, this pendant set priced at 1995 PKR is sure to turn heads wherever you go.
2. Jane Pendant Set
This versatile set can be paired with a wide array of outfits. Wear it with a casual blouse and jeans for a chic daytime look or with an elegant dress for a sophisticated evening ensemble.
The Jane Pendant Set is a distinctive jewelry piece priced at 3195 PKR. It stands out with its unique features and intricate detailing, making it a must-have in your accessory collection.
3. Butterfly Pendant
This pendant can be effortlessly incorporated into various looks. Pair it with casual attire for a laid-back style, or use it to add a whimsical touch to your evening wear.
Price 
The Butterfly Pendant, priced at a modest 1395 PKR, is a charming piece that has gained popularity for its symbolism of transformation and grace. The delicate design appeals to those who appreciate minimalist yet meaningful jewelry.
4. Gold Plated Pendant Set (2)
Styling Tips: This set is perfect for festive occasions when paired with ethnic wear. Alternatively, it can add a touch of luxury to a minimalist Western outfit.
Description: The second Gold Plated Pendant Set, priced at 1995 PKR, differentiates itself with its unique design elements. It effortlessly juxtaposes traditional elegance with contemporary flair.
5. The One Pendant with Chain
Pairing Recommendations: This pendant set can be worn with casual outfits for a subtle touch or paired with formal attire to complete a sophisticated look.
Overview: The One Pendant with Chain, priced at 1695 PKR, is a versatile piece designed to complement any outfit. Its understated elegance and adaptability make it a staple accessory.
6. Multilayer Charm Necklace
Styling: This piece can be worn with a simple tee to elevate a casual look or paired with an elegant dress for a more glamorous ensemble.
Insight: The Multilayer Charm Necklace, priced at 1756 PKR, is a trendy piece that combines various elements to create a cohesive and striking design. It's perfect for those looking to make a statement.
7. Luisa Pendant Set
Styling Suggestions: This set can be paired with an elegant gown for formal occasions or styled with a fashionable blouse and trousers for a chic look.
Description: The Luisa Pendant Set, priced at 4500 PKR, is a stunning ensemble that exudes aesthetic appeal. Its design is a harmonious blend of tradition and modernity.
8. Ball Locket Set
Styling Tips: The locket can be styled with everyday outfits or can add a personal touch to a formal ensemble.
Introduction: The Ball Locket Set, priced at 2295 PKR, is a timeless and classic piece that holds sentimental value. It allows for personalization, making it a cherished accessory.
9. Twisted Locket
Suggestions for Incorporating: This piece can be incorporated into a casual outfit for a stylish touch or paired with formal wear to create an elegant ensemble.
Explanation: The Twisted Locket, available at 1695 PKR, features a unique and eye-catching design. It's a modern twist on the classic locket style.
What is Difference Between Lockets and Pendants 
| | | |
| --- | --- | --- |
| Feature | Lockets | Pendants |
| Definition | Ornamental case for photos. | Jewelry that hangs from a necklace. |
| Purpose | Holds sentimental items. | Decorative adornment. |
| Design | Has a hinge, opens and closes. | Doesn't open, various designs. |
| Versatility | Can be personalized. | Varied shapes, sizes, materials. |
| Popularity | Valued for sentimentality. | Valued for aesthetic appeal. |
Wrapping Up
In the constantly evolving world of fashion, pendant sets have emerged as an indispensable accessory for young girls, seamlessly blending elegance, sophistication, and trendiness. 
From the timeless allure of the Gold Plated Pendant Sets to the playful charm of the Butterfly Pendant, the variety is boundless, offering something for every taste and occasion. 
Whether you're aiming to add a pop of color, a touch of grace, or make a bold statement, the top 9 pendant set designs of 2023 have got you covered. 
Each piece, meticulously crafted and thoughtfully priced, promises to be a worthy addition to your wardrobe. 
These pendant sets are not just accessories; they are expressions of style and personality, ensuring you're always in the spotlight. So, delve into these versatile and chic options and find the perfect piece that speaks to you.