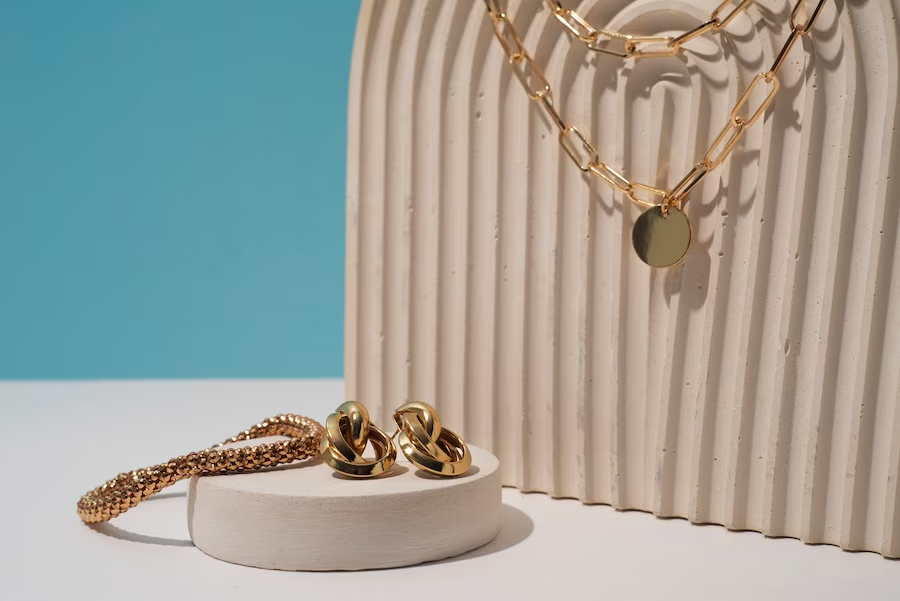 How to Perfectly Pair Minimalist Jewellery for Any Event
Jewellery has the innate power to make or break an outfit. In today's style-driven era, mastering the art of "Perfectly Pairing Minimalist Jewellery" can set you apart in any crowd. 
This approach isn't just about selecting subtle pieces; it's about understanding the balance and harmony that comes with "Perfectly Pairing Minimalist Jewellery." 
Whether you're dressing for a casual day out or a lavish event, knowing how to accentuate your look with minimalist adornments can be the key.
Join us as we explore the ins and outs of this fashion-forward trend, ensuring that you always strike the right chord with your accessories.
Casual Outings
Those relaxed days out, perhaps a brunch with friends or a simple coffee run, call for effortless style. When paired with tops and classic tees, a thin gold chain or a dainty pendant can elevate the basic Casual look. 
If you're wearing multiple necklaces, ensure they're of varying lengths to create a layered effect. For dresses and jumpsuits, small hoop earrings or geometric studs can offer a touch of sophistication. 
If your attire includes ankle-length pieces, don't shy away from incorporating anklets; they can add a hint of playfulness.
Work Event 
When dressing for a work event, the key is to maintain a balance between style and subtlety. Blazers and suits come alive with the addition of a sleek silver or gold bangle, while stud earrings provide a touch of refined glamour. 
For those who prefer formal shirts, a minimalist pendant necklace can offer just the right amount of flair. Pairing thin bracelets with classic watches can seamlessly tie together looks with trousers and skirts, projecting a confident and polished image.
Glamorous Galas
When the occasion demands a touch of luxury, like a ritzy gala or a formal party, your jewelry choices should reflect sophistication. Evening gowns are complemented beautifully by drop earrings that have a minimalist design. 
These pieces can capture attention without diverting it from your attire. For cocktail dresses, consider adding a subtle cuff bracelet or a single statement ring.
And if you're donning heels, especially those with ankle designs, a simple anklet can serve as a fitting complement.
Special Occasions
These are moments that hold sentimental value. Weddings, whether you're the central figure, part of the bridal party, or a cherished guest, offer opportunities to adorn minimalist jewelry tailored to the outfit. 
Tiny pearl earrings or delicate bracelets with singular gemstones can enhance the romantic vibe. Anniversaries call for special pieces like necklaces with hearts or infinity symbols, representing enduring love. 
Birthdays provide a chance to infuse personal touches, with jewelry choices incorporating birthstones or initials.
When pairing minimalist jewelry, it is important to consider the overall tone of the event and the other elements of your outfit. Choose pieces that complement your clothing and accessories. Don't be afraid to mix and match different pieces to create your own unique look.
We have a wide selection of modern minimalist jewelry to choose from at Alita.pk, perfect for any occasion. Browse our collection today and find the perfect pieces to complete your look.