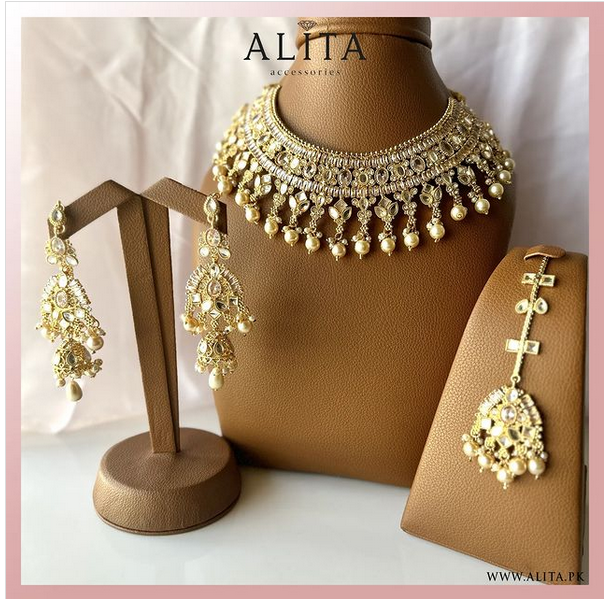 How to sell artificial jewelery online in Pakistan
In the digital age, markets are shifting, and the way people shop is undergoing a rapid transformation, especially in places like Pakistan. The trend to "sell artificial jewelry online in Pakistan" has emerged as a lucrative venture, tapping into the nation's evolving fashion sensibilities and the convenience of e-commerce. 
The line graph above represents the projected eCommerce revenue in Pakistan from 2023 to 2027, considering a compound annual growth rate (CAGR) of 5.9%. The revenue is expected to grow from US$5,601.1 million in 2023 to approximately US$7,042.4 million in 2027.
Whether you're an established jeweler or a budding entrepreneur, navigating the online marketplace in this niche requires a blend of strategic marketing, understanding local preferences, and maintaining product quality. 
This article will serve as a comprehensive guide to those eager to "sell artificial jewelry online in Pakistan," ensuring you're well-equipped to capture the hearts and wallets of online shoppers in the region.
What Attracts People to Online Artificial Jewelry
With Pakistan's youthful demographics, the rise in disposable incomes, and the expanding digital net, the market is brimming with opportunity.
While we all love a sprinkle of glam, not everyone's ready to splurge. Artificial jewelry offers the shimmer without the price tag, and it's a crowd-pleaser.
Ranging from modern chic to vintage classics, the variety in artificial jewelry ensures there's something for every mood and moment.
With life's endless chores, the luxury of shopping from one's snug corner and awaiting doorstep delights is a boon.
Starting Your Journey into Online Jewelry Shopping
If you've been waiting for a sign to start your online artificial jewelry business in Pakistan, consider this your green light. Through this blog, we aim to arm you with all you need to kick things off and keep the momentum going. 
Whether you're just starting out or looking to expand your current business, we're here to guide you through every twist and turn. Here's to making the online jewelry world a bit more sparkling!
Market Research
Navigating the world of artificial jewelry sales is like a ship sailing through vast oceans. Every ship needs a compass to find its way, and in the business realm, market research serves as this essential navigation tool. It ensures your jewelry venture doesn't get lost amidst the vastness of the marketplace.
The Importance of Market Research in Selling Artificial Jewelry
Market research is crucial for multiple reasons when selling artificial jewelry. Firstly, it offers a way to reduce risks. By providing insights into market trends and consumer preferences, market research ensures businesses make informed decisions, thus minimizing uncertainties. 
No brand wants the financial burden of unsold stock, and knowing what the consumer desires can notably diminish this risk.
Moreover, market research is a beacon for spotting new opportunities. A systematic and detailed analysis can reveal gaps in the market, whether they're related to design, price, or style. 
Smart businesses recognize these gaps and transform them into lucrative opportunities. Every decision in business should ideally be data-driven. From launching a new collection to setting the right price, market research offers the clarity needed.
Identifying the Target Audience
Understanding your audience is the cornerstone of any successful business. When selling artificial jewelry, it's crucial to grasp the demographics of your potential customers.
Are your products more aligned with the tastes of millennials looking for the latest trends, or are they suited for professionals seeking more refined designs?
But demographics only paint a partial picture. An in-depth look into psycho-graphics, which includes understanding lifestyles, preferences, and aspirations, can provide richer insights.
For instance, a college student might have an inclination towards boho styles, while a corporate executive might prefer something minimalistic and classy.
Moreover, analyzing purchase behaviors can be revealing. Recognizing the platforms they frequent or how often they make purchases can guide your marketing strategies, ensuring you place your efforts where they'll have the maximum impact.
Analyzing Competitors and Setting Your USP
In the dynamic world of artificial jewelry, knowing your competition is paramount. It's essential to be aware of primary competitors and understand their offerings, price points, and marketing methods. However, simply knowing isn't enough; businesses need to find ways to stand out.
This is where the Unique Selling Proposition (USP) comes into play. It's what sets a business apart. It could be the distinctiveness of designs, the sustainability of sourcing materials, the allure of personalized packaging, or even an unmatched after-sales service. This USP should not just exist but be prominently displayed in branding and promotional efforts.
Lastly, the world of jewelry is ever-evolving, and market dynamics can change rapidly. Therefore, businesses should be attuned to these shifts, always open to feedback and staying updated. Regular competitor analysis can provide insights, ensuring a brand remains not just relevant but also a step ahead of others.
Strategic Road map and Legal Requirements
A strategic road map, generally known as a business plan, is a well-defined blueprint outlining your commercial aspirations and the measures you intend to employ to reach them. This document is invaluable for any commerce venture and is even more critical when you're operating in the digital realm.
The merits of crafting a strategic road map include:
Offering a clearer understanding of your business aims.

Making you rigorously contemplate your commercial blueprint.

Aiding in pinpointing both foreseeable hurdles and possibilities.

Serving as an appealing dossier for potential backers or financial institutions.

Operating as a navigational guide for the growth of your venture.
Initiating Your Online Enterprise in Pakistan
To launch your digital commerce operation in Pakistan, it's imperative to get your venture registered with the Securities and Exchange Commission of Pakistan (SECP). This can be performed online or via paper submission.
For online registration, an account needs to be set up on the SECP's official site, followed by supplying rudimentary data about your enterprise, such as its name, nature, and physical location.
Alternatively, you can download a paper form from the SECP portal and hand it over to the closest SECP branch.
Mandatory Credentials and Authorizations for Digital Commerce
Apart from official registration, there might be a need for supplementary authorizations and certificates, depending on your business model. For instance, if you're involved in e-commerce, acquiring a tax identification is essential.
You may be required to acquire the following credentials for a digital business in Pakistan:
Federal Tax ID

Revenue Tax Certification

Operational Authorization

Internet Domain Registration

Server Hosting Authorization

Online Transaction Mechanism Certification
You can find more information about the specific licenses and permits that you need for your online business on the SECP website.
Choosing a Sales Platform Own website vs. third-party websites (like Daraz, OLX, etc.)
Own Website: Offers more control over branding, customer experience, and revenue. You'll be responsible for the design, user experience, and maintenance.
Third-party Websites:

They provide a built-in customer base and are user-friendly. However, there's often more competition, and they take a percentage of your sales.
Importance of UI/UX for an Online Jewelry Store
UI (User Interface) and UX (User Experience) are crucial. A well-designed, intuitive website keeps customers engaged and simplifies the buying process.
Mobile Optimization
With a significant number of users shopping on mobile devices, ensure your website is mobile-optimized. This ensures easier navigation, better visuals, and a smoother checkout process on smartphones.
Inventory and Pricing
Use inventory management software to keep track of stock.

Monitor best-sellers and restock them promptly.

Regularly update product listings based on availability.
Pricing strategies for artificial jewelry
Competitive pricing: Research what competitors are charging.

Cost-plus pricing: Determine your costs and add a desired profit margin.

Tiered pricing: Offer different price points for different product grades or bulk purchases.
Offering discounts and promotions: Seasonal sales, bundling deals, or first-time buyer discounts can attract and retain customers.
High-Quality Product Photos and Descriptions
Importance of good photography: Clear, high-quality photos from multiple angles enhance the product's appeal and reduce customer doubts.
How to write compelling product descriptions
Highlight the jewelry's unique features.
Use emotive language that resonates with the target audience.
Include practical details like size, material, and care instructions.
SEO-friendly content for better search engine ranking: Use relevant keywords, optimize meta descriptions, and use high-quality backlinks to boost your store's visibility on search engines.
Payment Gateway and Logistics
Options for payment gateways in Pakistan:
International gateways like PayPal and Stripe are also viable.
How to manage shipping and logistics: Partner with reliable courier services. Offer tracking options and ensure timely deliveries.
Packaging tips for shipping delicate items like jewelry:
Use padded envelopes or bubble wrap.

Include branded boxes for a premium feel.

Add a personal touch, like a thank-you note, for added customer delight.
Marketing Strategies
Social Media Marketing: Use platforms popular in Pakistan like Facebook and Instagram. Regularly post engaging content stories and conduct live sessions showcasing your pieces.
Email Marketing: Send newsletters with new arrivals, special offers, and updates. Segment your list to provide personalized content.
Influencer Partnerships: Collaborate with local influencers to showcase your jewelry, reaching a wider and more engaged audience.
Selling artificial jewelry online in Pakistan requires a blend of sound business strategies and an understanding of local customer preferences. With dedication and the right approach, success is within reach.
Wrapping Up
Selling artificial jewelry online in Pakistan is a promising venture, given the ever-evolving digital marketplace and the country's growing appetite for trendy yet affordable accessories. 
By understanding local consumer preferences, leveraging the power of social media, and ensuring a seamless online shopping experience, entrepreneurs can tap into this burgeoning market effectively. 
As with any business, consistency, quality assurance, and customer engagement are paramount. With the right strategies and a bit of creativity, the digital realm can serve as a goldmine for artificial jewelry sellers in Pakistan. So, set up your e-store, stay updated with the latest trends, and watch your business shine!